Escriba Toda Luz
Female, Bay,
Born 12/21/2010
RP 419 | SBA 44185
Paternal LineRIVER SLANEY

IRISH RIVER
CHANCY PROSPECT

NORTHERN PROSPECT
CHANCY DANCE

Maternal LineGETE MOON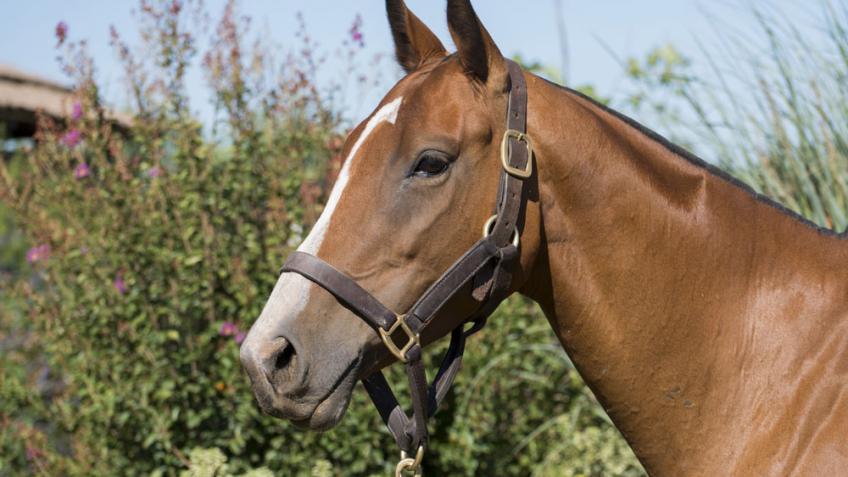 Paternal Line RIVER SLANEY
RIVER SLANEY
Stallion with the highest number of progeny playing in Opens from 2007 to the present day. 1# in the 2013 AACCP's leading sires list. His progeny have been nominated more than 30 times in the Triple Crown and in other exhibition and tournaments. Several of his progeny played high handicap being 5 years old.
Sire of:
A.  ANÓNIMA, "Mejor Producto Polo Argentino" in 2013 and 14 nominations at the Triple Crown, CEREZA, @ DIGITAL, A. LLOVIZNA, DELFINA, A. MANDARINA, A. DINÁMICA, @NUBE
A.  JULIETA, A. WALLABIE, A. CLEOPATRA, A. CARIOCA, R. COPADA, R. PIQUETERA, A. NEVER
A.  BRUMA, L. ELLE, R. FLOREAN, A. PLAYBOY, A. GEISHA, A. AURORA, @ NEGOCIANTE, L. NAOEMI, A. ELITE, A. IMPERIAL, @ RELIQUIA, A. PINTURA, A, ATÓMICA, A. EXPLOSIVO, R. SOLEDAD. L. RIVER APPLE, L. SPRING, @MAGISTRAL, R. SINFÓNICA, I. LARA, R. NILDA,B. SHAKIRA,  L. PIANO, R. MATA.
Moreover, he sired:
AGUADA MATERA, R. IMAGINADA (JNA), AGUADA FLOR (INA), AGUADA IMPERIO (INA), A. MELLIZO  and A. NARANJO, all of whomplayed in Opens being 5 years old and were exported to the USA and UK.
Sire of Stallions:
R. GRINGO, A. BRIDGESTONE, CÉSAR La Aguada Embryo Transfer Center - EL Dok, 
A. EL ROCÍO Condomí Alcorta Center, 
RAYO GIN La Vanguardia Center, 
A. PINGO Johnston USA, 
A. BRIDGESTONE.
Son of IRISH RIVER
IRISH RIVERwas Champion in France and whose progeny made more than US$ 30,000.000 earnings.
His father, RIVERMAN, (Chef-de-race) was leading sire in France twice and sired 128 winners of classics.
Sire of RIVER MATELL, excellent polo stallion that sired: 
Neblina, who won the 2003 Triple Crown 2003 and played in 9 Opens with J and MNA.
Felicidad, who was Best Playing Pony at the1997 Palermo Open final, (B. Heguy). 
Moneda, Nena, Figurita and Ramita (MNA), 
Rehén (B. and G.Heguy) and Esperanza, all of whom play in Opens.
NORMAN PENTAQUAD (Ellerston), excellent polo stallion.
WAINSCOT (Mariano Aguerre), excellent polo stallion. 
Son of CHANCY PROSPECT
3 wins in the USA. She produced several winners.
Maternal Line GETE MOON
GETE MOON
Sold at auction in 2003 to the Novillo Astrada brothers and to G. Fornieles. High Handicap 2008 (M. Novillo Astrada).
Daughter of PUCARÁ VIRTUAL
Sire of:
GETE SORDA (LA LUNA) Cámara de Diputados 2008 (S. Tanoira).
Daughter of LA LUNA
She is considered one of the best polo mares in history, not only as player, but also as dam and granddam. Ellerstina breeding's Founding Family. Bred by Héctor Barrantes and ridden by G. Pieres in the Palermo Argentine Open Championship for teams La Espadaña and Ellerstina. She won two Lady Susan  Townley awards (1987 and 1990), and the Argentine Polo Breeders Association award to the Best Pony at the Palermo Open in 1987 and 1990 and at the 1988 Hurlingham Club Open.  She played 4 seasons in England, from '91 to '94, and 1 in the USA, in 1994.
Dam of:
OPEN LUNA NUEVA: ridden in the Triple Crown '08 and '10 by G. Pieres. Only daughter of La Luna and R. Corner. Full sister of Open Sunset. Her first daughter, Open Nueva Jersey, made her debut in the 2013 Tortugas Open with G. Pieres. OPEN ESPACIAL: combination of the two best animals in the history of polo, Luna and Sportivo. Member of Ellerstina's team of stallions. In his first year at Ellerstina (2003), 4 females and 4 males were born. His first numerous foal crops were born in 2004. 20 of his daughters have already made their debut in the Argentine Triple Crown.
OPEN SUNSET: stallion sold at 2005 Ellerstina's auction to Carlos de Narváez at record price.
OPEN CALIFA: Best Horse at US Open 2005; USA Horse of the Year 2005. First cloned horse.
OPEN CHITA: 9 Palermo Opens. Best Playing Pony at the 2005 Hurlingham Open. 2011 Triple Crown.  Dam of: Cohiba Felina, 2012 Tortugas Open final. Ridden in the 2014 Triple Crown by N. Pieres.
GETE SORDA: Palermo Open (S. Chavanne).
GETE MEDIA LUNA (PUCARÁ): sold at auction in 1999 to G. Zabala. Palermo Open (P. Mac Donough).
GETE LUNA LLENA (PUCARÁ): Palermo Open (S. Chavanne / M. Novillo Astrada).
GETE MOON (PUCARÁ VIRTUAL): sold at auction in 2003. Sold to Novillo Astrada brothers and G. Fornieles. High handicap (M. Novillo Astrada).
GRAPPA ASTEROIDE (PLIN- PLIN PLIN): stallion sold at Ellerstina's auction in '06. He stands in service at Embryo Transfer Center La Irenita. His first progeny were born in '07.
OPEN MOON (OPTIMUM): ridden in Opens by G. Pieres (s) in '04. Deceased.
GETE LAIKA (GUINDADO): Palermo Open (S. Chavanne).
OPEN JASY (ILUSIONADO): Argentine Open Championship finals in '04, '05, '06, '07, '08, '09 and '10, most of the times in 2 chukkers, ridden by Mariano Aguerre and Lucas Monteverde.
ECLIPSE (SOBORNADO), LUCERO (OPTIMUM), GETE MERCURIO (PUCARÁ), GETE MENGUANTE (BOLCHE), GETE LUPA (GUINDADO), OPEN LUNA PARK (MONJE), OPEN CHINCAY (OPTIMUM), OPEN TROTIL (OPTIMUM), and COLUMBIA, among others.
Maternal granddam of:
RICHARD TRAMPA: 2014 Triple Crown with Juan Martín Nero.
GETE LUNA CRECIENTE: 2014 Tortugas Open with Guillermo Caset.
FINA TANGERINE: 2014 Triple Crown with G. Pieres.
OPEN BAILARINA: 2012 Triple Crown. UK 2013.
NUEVA JERSEY: 2013 Triple Crown.
Great-granddam of:
OPEN CHEQUERA: one of F. Pieres' best ponies at the moment.